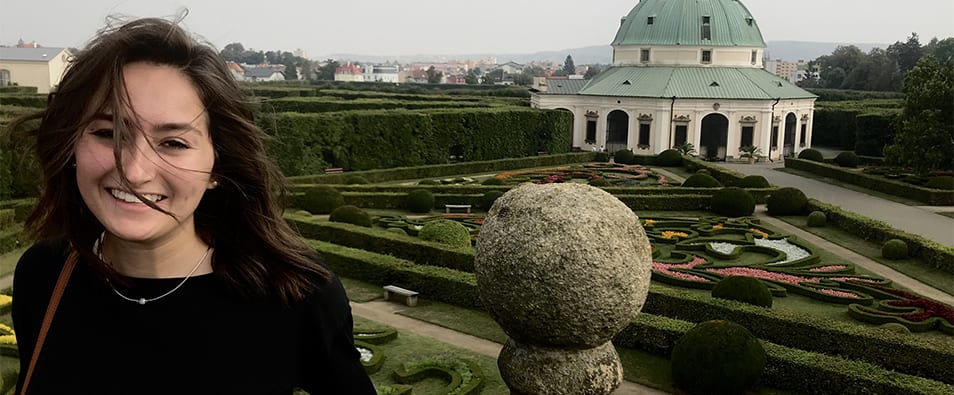 Fellowships and Scholarships
We've had Fulbright award winners, SMART Scholarship recipients, and FAO Schwarz fellows, among others. Faculty and administrators in the Center for Engaged Learning provide information, guidance, and support to students and recent alumni who apply for national and international scholarships and fellowships. What begins with a simple email could end with you teaching in Poland or Malaysia, studying underwater acoustics at the Naval Undersea Warfare Center, or researching the life of garment workers in the Dominican Republic.​
Latest News
Jennifer Dorn '18, a double major in English and theatre arts, was awarded a Fulbright teaching assistantship in the Czech Republic for the 2018-19 academic year. Dorn, a native of Dallas, Texas and the winner of the 2018 theater criticism award from the Kennedy Center American College Theater Festival in Washington, D.C, will teach English at a secondary school in Zábřeh, in the eastern part of the CR. "The Czech Republic has a rich history in the arts," Jenn recently noted. "Václav Havel, the first president, was a playwright, and artists led the drive for reform in the Communist era. The arts are respected in Czech culture."
Susan Malone '13, who graduated with a bachelor's degree in psychology, also is a recipient of a 2018-19 Fulbright fellowship to teach in the Czech Republic. Between graduating from PC and applying for the Fulbright award, Susan spent four years teaching middle school at Pahin Sinte Owayawa, also known as the Porcupine School, a K-8 school for 200 students on the Pine Ridge Indian Reservation in South Dakota. She completed her first two years there as part of the Teach for America program, then returned for another two years. Through fundraising, she was able to bring two of her eighth-grade students to a leadership summit in Germany for 10 days.
Read more about Jennifer Dorn '18 and Susan Malone '13.
Michael Gilmor '17, a biochemistry major who grew up in Huntington, N.Y., spent the 2017-18 year as a Fulbright teaching assistant at a university in Poland. Gilmor was one of only 15 students in the U.S. selected by the Fulbright U.S. Student Program to teach in Poland that year. He chose Poland because the Fulbright commission there welcomes teaching assistants with science backgrounds and because his great-grandparents were born there.
Read more and listen to a podcast with Michael Gilmor '17.
And More . . .
2016: Two students awarded ​Fulbright English Teaching Assistantships
Two members of the Class of 2016 returned to their study abroad destinations — this time as formal cultural ambassadors for the United States. Fulbright scholars Kelley Garland '16 (Wantagh, N.Y.) and Abbey Guerino '16 (Milford, Conn.), both members of the College's Liberal Arts Honors Program, spent a year teaching English to secondary school students alongside a master teacher.
The Fulbright Program, the prestigious international education exchange opportunity sponsored by the U.S. government, is designed to increase mutual understanding between the people of the United States and other countries. Each year, more than 1,900 U.S. citizens pursue research or teaching assistantships in more than 155 countries through the program.
Garland traveled to the Czech Republic, where she had an internship with a nonprofit and took a political science course in the summer of 2014. Guerino  returned to Spain, where she spent spring 2015 at the University of Seville and volunteering in a fourth-grade classroom.
2015: Two language students received Fulbright awards
Whalen & KennedyRecent Providence College graduates Emily M. Kennedy '15 (Tallahassee, Fla.) and Vincent A. Whalen '15 (Eatontown, N.J.) will spent a yea​​r in Argentina and Spain, respectively, thanks to Fulbright awards​.​
Kennedy, a former global studies major who minored in Spanish, political science, and Latin American studies, received a Fulbright Research Grant to study a social movement to improve water access in a rural community near Buenos Aires, Argentina.
Whalen, who majored in Spanish and economics, was awarded a Fulbright English Teaching Assistantship Scholarship to IE University in Madrid, Spain. He worked with faculty and business students at IE, where courses are taught in Spanish and English.